:Lois of the Lane: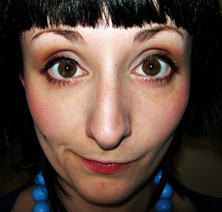 My wordless Alter Ego...
Lois of the Lane: seductress, mystic, poet. Well, maybe in another life. (Actually, probably not.) Keeper of a seemingly bottomless pit of facial expressions and fond of a good tune, Ms of the Lane specialises in bite-sized chunks of the sublimely ridiculous.
Born out of my sell-out one woman show Glitch in 2006, Ms of the Lane subsequently had her very own new show Super Situation in 2009 and starred in my latest solo show Fabled which popped out of my brainbox in 2012.
* * *
She has been known to hit the variety circuit with one of her 5 minute-ish Random Acts of Ridiculousness and has so far bewildered and thoroughly amused punters at (amongst other places):

Madame Jojo's, Volupte, The Bethnal Green Working Man's Club, The Royal Vauxhall Tavern, Jackson's Lane, The Paradise, Dirty Dicks, Whitechapel Art Gallery, Offset Festival, Resistance Gallery, The Betsey Trotwood, various places at the Edinburgh Festival Fringe including The Bongo Club and now she wants to entertain YOU. There's probably no point stopping her.


Hold on to your hats Ladies and Gentlemen -
the Lane has well and truly landed!
Acts currently include: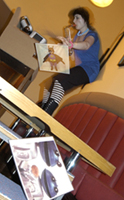 The Box of 1,000 Dances - 3 minutes
Lois comes on all DJ looking - mahoosive headphones and a heavy record box. Cue 'The Land of 1,000 Dances' by Wilson Pickett. Lois has an appropriate 'record' in her box for every line of the song and she knows the words pretty good too... Includes a dash of toy saxophone and a smattering of sing-a-long-a-audience participation. It's fast, furious and irreverant.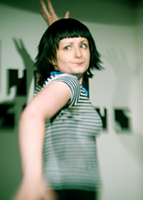 Dance Fever - 4 and 1/2 minutes
Lois is going to mime a rendition of Elvis Presley's 'Fever' - well, that's what we think. Instead we get Fever interspersed with a whole host of snippets from all sorts of classic (not always classy...) popular tunes, which somehow fit in. It's all perfectly timed and choreographed and entirely ridiculous.
* watch act here *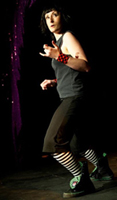 Alive and Amplified
-
5 minutes 50 seconds
Over 5 and a half minutes of Air Guitar! Lots of different bits from various guitar based hits all spliced together, ultimately leading up to a 'Back in Black' finale. ROOOOOOOOCK! *
watch act here
*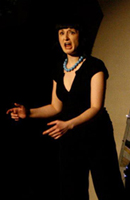 Somewhere - 4 minutes
Lois is going to mime a beautiful version of 'Somewhere' from West Side story but the genre keeps on taking her (and us) by surprise... From Country to Dubstep and back again with the occasional surprise backing vocal. * watch act here *
Shake!
-
4 minutes 50 seconds
Lois has a delicious slice of cake to eat but before she's allowed to tuck in to it she needs to SHAKE, because "Who don't shake, don't get no cake…". Thus ensues much shaking to more songs with the word 'shake' in than you ever realised existed! Hidden props included.
*
watch act here
*
Photo credits, in order:
Sarah Costley, Moira Lovell, Piglicker, Graeme Braidwood, Johanna Spiers, Vee Smith.
For more information, please contact me.


















site designed and maintained by Lois