:Glitch: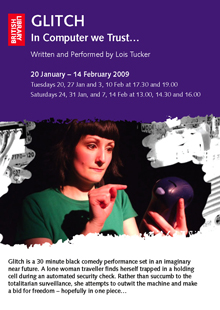 Glitch = my first solo visual black comedy wordlessly performed as my alter ego Lois of the Lane to a continuous soundtrack featuring voice over, music and sound effects: a thirty minute black comedy for the automated generation.
Welcome to Room 8933 and the new 'Stay Safe!' Character Vetting Process!

'Stay Safe!' marks the dawn of a new era of security at Passport Control. A few minutes and a short digital questionnaire later: you're free to continue your onward journey.

Quick, simple efficient and painless:
'Stay Safe!' - for you, for us, for everyone.

What could possibly go wrong...?
A lone woman traveller finds herself trapped in a holding cell during a routine security check. Rather than succumb to the increasingly totalitarian surveillance, she attempts to outwit the machine and make a bid for freedom - hopefully in one piece…
I wrote, marketed, produced and performed Glitch initially as a very last minute affair amidst the furore created by the proposed introduction of ID cards into the UK. It fortunately turned out to be a rewarding gamble: I managed to persuade Richard Hurst to direct a few days before my performance and Glitch is still (unfortunately) relevant today.
The Scotsman:
"This timely black comedy is woven from several strands of bitter contemporary malaise: the encroachment of government surveillance into our private affairs; the intrusion of marketing strategies into every transaction we undertake; and the infuriating inhumanity of automated customer service networks."
Andrew Burnet * * *
It's pretty much just me, my soundtrack and a chair and it's always great fun to perform.
Glitch performances so far:

Pleasance
during the last week of the Edinburgh Festival Fringe
August 2006

Etcetera Theatre
sell out successes!
January 2007 and January/February 2008 for a few dates

The British Library
as part as the Taking Liberties exhibition
January/February 2009 for 20 performances

Waterloo East Theatre
the first ever show in this venue
July 2010 for 2 nights

The Lexington and the Holloway Arts Festival
One off performances
June 2011
It would make a really good short film...
Voices (in order of 'appearance'):
Male Announcer on Airport tannoy – Tim Frost
Female Announcer on Airport tannoy – Dorota Józefowicz
Default Computer – Sarah Nield
Section Announcer – Jae Kerwood
'Stay Safe!' Advert – Paul Zenon
All other Adverts – Paul Garner
'Technical Problem' Guy – Glen Strachan
Warning Announcements & Final Computer voice – Lois Tucker
Rebooted Computer – Giuseppe Rella
Computer you wouldn't mess with – Matty Mitford
Jo Public – Katie Marsden, Richard Crawley, Alex Cottrill, Enzo Appetecchia, Lisa Carpendale, Julia Sandiford, Paul Engers, Alex Bowley & Jamie Janson
Soundtrack spliced together, recorded & mastered by: Hottie Redfoot at Glendale Studios
Additional Sound Engineering: Fat Gianfranco

Original Outside-Eyer / Direction / Welcome Advice: Richard Hurst
Glitch Re-boot Direction: Jamie Rocha Allan

site designed and maintained by Lois